October Narrative Medicine Rounds with Julia Rothman and Shaina Feinberg
"We Talked to Hundreds of People About Sex. Here's What We Learned," a talk with authors & collaborators Julia Rothman and Shaina Feinberg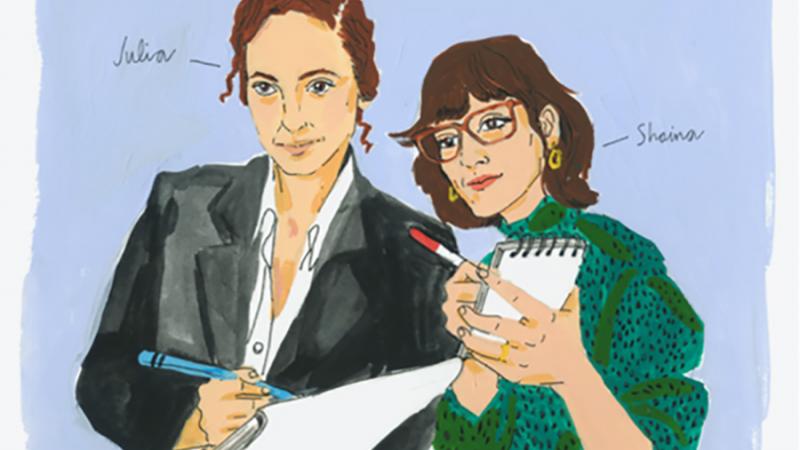 For our October Narrative Medicine Rounds, we are thrilled to welcome Julia Rothman and Shaina Feinberg, authors of the book Every Body: An Honest and Open Look at Sex from Every Angle. They will speak to us about the project of their book and about the work of collaboration in storytelling and illustration. 
Julia Rothman and Shaina Feinberg are the authors of Every Body: An Honest and Open Look at Sex from Every Angle, and constant collaborators. Their full-page illustrated column, Scratch, runs every other Sunday in The New York Times. They have also collaborated on illustrated stories for The New Yorker, Topic, and other publications.
Julia is the author and/or illustrator of twelve books, including Nature Anatomy, Ladies Drawing Night, and Hello, New York. She also illustrated books for Jane Fonda, Liv Tyler, and Gail Simmons. In 2017, she co-founded — with Wendy MacNoughton — Women Who Draw, an open directory of female-identifying illustrators, artists, and cartoonists.
Shaina is a writer/director. In 2019, she was named by Indiewire as 1 of 25 queer filmmakers to watch, calling her work "delightfully quirky and maddeningly visionary." Shaina has created content for The New York Times, IFC, Audible, Refinery29, First Look Media, This American Life, and BRICTV. She has directed Christian Slater, Canie Coon, Cristella Alonzo, Cole Escola, Maeve Higgins, Justice Smith, and Alysia Reiner, among many, many others. Her critically acclaimed series, Dinette, was lauded by Pulitzer Prize-winning essayist Emily Nussbaum in The New Yorker, and was renewed for a second season.
Narrative Medicine Rounds are monthly rounds on the first Wednesday of the month during the academic year hosted by the Division of Narrative Medicine in the Department of Medical Humanities and Ethics at Columbia University Irving Medical Center. A recording of our Virtual Narrative Medicine rounds will be made available following the live session on the Narrative Medicine YouTube channel, and you can watch other recent Rounds events there. You can also listen to a podcast of past Rounds on iTunes.