Columbia Commons IPE Seminar Courses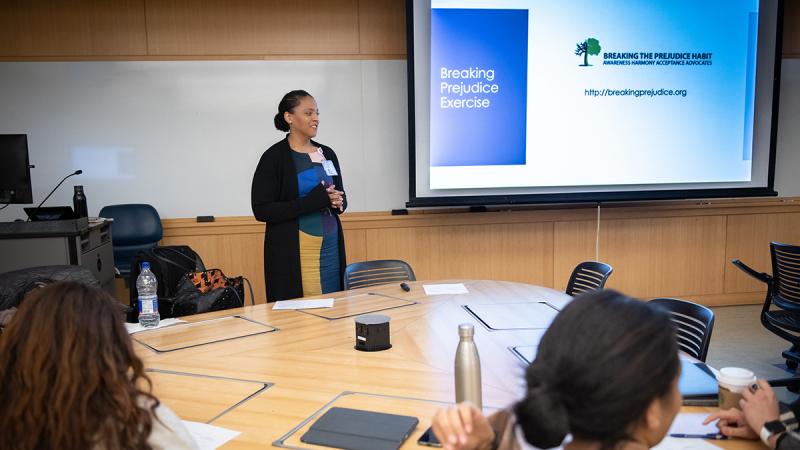 The Columbia Commons IPE Seminar courses bring together faculty and students from ten professional health programs and schools to learn how to support respectful and effective health care teams. The seminar courses open up urgent questions about health, illness, and care while incorporating each of our many perspectives on these topics.
Our courses focus on a health topic with an emphasis on small group work, discussion, and reflection. The majority of our courses also aim to orient students to the methods of Narrative Medicine, such as close reading, attentive listening, and creative writing. These seminar courses are eleven-week long classes open to dental, medical, nursing, nutrition, occupational therapy, pastoral care, physical therapy, public health, social work, and genetic counseling students.
Student Seminar Experiences:
Relationships and Spaces of Care was a highlight of my medical education so far. The opportunity to reflect on what I bring as a person to my role as a medical provider, and work closely with students from other professional schools to begin formulating an understanding of our relative perspectives and capacities to contribute was both unique and invaluable. The balance of personal writing and group discussion offered a rich experience that I wish every person at the CUIMC campus could experience. I could not recommend this seminar nor the IPE narrative medicine experience more highly.
My Columbia Commons IPE Seminar, Health Care Justice, experience is one of the highlights of my time at Columbia, and has absolutely shaped my relationship to this campus. I am incredibly grateful for having had the opportunity to think critically about the structural inequities underlying health with students from across the health care schools–I highly recommend it!
I thoroughly enjoyed the Spirituality and Healthcare Seminar and appreciated the opportunity to learn about engaging with patients and their spirituality. The interprofessional nature of the seminar provided an environment for meeting students from other health care programs and learning about their future professions that is missing from our medical curriculum. One of the highlights was shadowing a chaplain at the hospital–listening to the chaplain comfort a patient as he worried about the future of his wife and daughter after he passed away ranks as one of the most powerful moments of my medical education so far. I would highly recommend this experience to all first years!
The IPE seminar on Health and Health Care spaces was the best course I have taken during medical school. We went from birth until death, exploring each theme from different angles and seeing how it applied to our roles as providers on a health care team. For me, many of the themes had been brought up by other aspects of medical school, but I had never felt like I really had the time to think deeply about them, discuss them, and process them until this seminar. I am so happy and thankful that I had this experience.