Who We Serve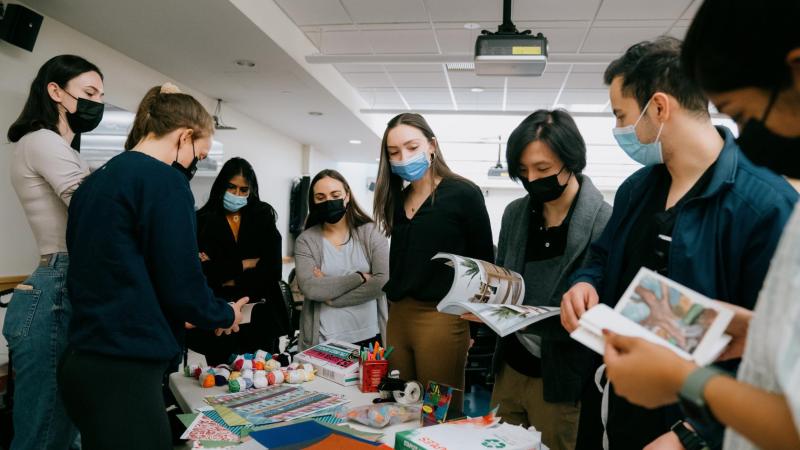 ---
The IPE curricula aims to create collabrative opportunities for ten programs across the CUIMC campus. They are the College of Dental Medicine, Programs in Physical Therapy, Programs in Occupational Therapy, School of Nursing, MD Program, Clinical Pastoral Education Program, Program in Genetic Counseling, Institute of Human Nutrition, Mailman School of Public Health, and School of Social Work.
The College of Dental Medicine
What is widely unknown about dentistry is that oral health is inextricably linked to overall health and that dentists play a role in the primary health care of their patients. The core values of dentistry include excellence, integrity, respect, inclusion, evidence-based practice, and the integration of oral health and overall health. One of the major roles and responsibilities of this profession is the maintenance of the masticatory system to allow a full range of healthy nutrition, esthetics, and self-confidence in those we care for. The degree that is required for a license to practice dentistry is a clinical doctorate: DDS or DMD. Learn more about the college.
Physical Therapy
Physical therapists are movement experts who optimize quality of life through prescribed exercise, hands-on care, and patient education. Physical therapists seek to minimize your pain and discomfort—including chronic or long-term pain. The core values of physical therapy are accountability, altruism, compassion, caring, excellence, integrity, professional duty, social responsibility. A common myth about physical therapy is that it is only for injuries and accidents. However, physical therapists do a lot more than just stretch or strengthen weak muscles after an injury or surgery. They are skilled at evaluating and diagnosing potential problems before they lead to more serious injuries or disabling conditions—from carpal tunnel syndrome and frozen shoulder, to chronic headaches and lower back pain, to name a few. The degree offered in the Physical Therapy is the Doctor of Physical Therapy (DPT) degree. Learn more about the program.
Occupational Therapy
Occupational therapy's distinct value is to improve health and quality of life through facilitating participation and engagement in occupations, the meaningful, necessary, and familiar activities of everyday life. Their roles & responsibilities include ensuring individuals are able to perform their daily routines and activities depending on what is needed to fulfill their roles. Most people do not realize that OTs are also trained and work in the fields of psychiatry/mental health and work with those with psychosocial challenges. In fact, they have a wide range of professional focuses. OTs can choose to remain in a clinical environment, take on managerial or administrative roles, or pursue positions as educators and researchers. The profession also has board certifications in gerontology, mental health, pediatrics, and physical rehabilitation as well as clinical specialty certifications for advanced practice in driving and community mobility, school systems, low vision, environmental modification or feeding/eating and swallowing. The programs offered are a Master's degree (MA, MOT), a Doctoral degree (OTD), and a Occupational Therapy Assistant (OTA). Learn more about the programs. 
School of Nursing
The five core values of professional nursing are human dignity, integrity, autonomy, altruism and social justice. Some of the responsibilites of nursing include advocating and caring for individuals of all ethnic origins and religious backgrounds, monitoring patient health, administering medication and treatments, operating medical equipment, performing diagnostic tests, and educating patients about management of illnesses. Even though nursing is weighted with many stereotypes and biases, nurses are consistently named one of the most trusted professions. Advanced practice nurses are even able to diagnose and manage diseases and are cut-rate physician substitutes. Degrees offered by this school include the Masters Direct Entry (MDE), Doctor of Nursing Practice (DNP), and Doctor of Nursing (PHD). Learn more about the school.
MD Program
Medicine exists to improve the health of the public, placing patients' interests first and responding to the needs of each patient. Some responsibilites of this profession include diagnosis and treatment through history-taking, physical exams, reviews of objective data including laboratory values and imaging, treatments which range from prescribing medications to referring to other providers (including members of an interprofessional team), and procedures such as surgery when indicated. A tremendous range of physicians' professional careers include lives in bioscience research, law, humanities, health policy, organizational leadership, education, and the arts. The program offers an MD and Doctor of Osteopathy (DO). Learn more about the program.
Clinical Pastoral Education Program 
The mission of the Pastoral Care program is to provide religious, spiritual, existential and cultural support for people from all backgrounds and in all life circumstances. Chaplains are trained to be attuned to people's spiritual needs - needs for meaning, purpose and connection - whether people identify with a particular religious tradition, consider themselves 'spiritual but not religious', or define themselves as secular. A common myth about chaplaincy is that chaplains can only be helpful to those who are religious. However, people who may never have sought out religious leadership are often surprised by the healing power of a spiritually-grounded pastoral visit where patients set the agenda and have the freedom to engage the chaplain as they wish with the full spectrum of their thoughts and feelings as they cope with the challenges in their lives. The objectives of the profession are to respond with chaplaincy care to life crisis events such as the experience of hospitalization, emphasize care for the whole person – spiritual, emotional, and physical, and help foster a caring presence throughout the hospital. The M. Div is the 3-5 year graduate-level program that is offered. Learn more about the program.
Program in Genetic Counseling
Genetic counselors provide personalized help people may need as they make decisions about their genetic health and how inherited diseases and conditions might affect them or their families. They provide support to people by advising on which genetic tests may or may not be right for them and how to make the most informed choices about health conditions. They may provide general care or specialize in one or more areas such as reproductive, pediatric, neurological, or oncological care. Genetic counselors can practice independently, have their own clinics, bill insurance, and run divisions and departments at academic medical centers or industry settings. However, they also regularly work in conjunction with other healthcare providers on teams, most often including MDs, NPs/nurses, dietitians/nutritionists, and social workers. The Genetic Counseling program offers a Master of Science (MS) degree program. Learn more about the program.
Institute of Human Nutrition
The core values of the nutrition field of practice are to provide factual and helpful information on Nutrition across the lifespan for both preventative and current care. There is sometimes a bias that those that work in nutrition don't understand the struggle of excessive weight gain or obesity. However, appropriately educated nutrition scientists understand the biological constraints of weight regulation and can use that knowledge to better help those that are struggling with obesity. The degrees offered are a Masters of Science in Human Nutrition and a PhD in Nutrition and Metabolic Biology. The Master of Science degree program is designed to be a strong foundation for students who plan to attend medical, dental or other health professional schools, as well as PhD programs in a range of disciplines. Some students seek further training to become dietitians, food technologists, or clinical nutritionists. Students have also used this training as a stepping stone into careers in public health settings, the pharmaceutical industry, and other venues where nutrition knowledge is valuable. Career routes can extend beyond the health-care realm, into media, start-up companies, health-related IT, journalism, law, and business. Learn more about the program.
Mailman School of Public Health
The mission of public health as a field is to prevent disease and promote health. Public health is often taken for granted because it can seem invisible. Some work that public health practioners do includes investigating health hazards, developing policies to support health goals, mobilizing community partnerships, educating the public, evaluating health programs, providing links to health services, and enforcing health laws and regulations. Through this work, structures are in place that prevent disease and promote health. When health crises such as epidemics occur, these structures mobilize swiftly to intervention (e.g. mandatory vaccination during measles epidemic). Public health is deeply interdisciplinary and has been responsible for adding 30 years to life expectancy. Mailman offers a Master's of Public Health (MPH) and a Doctor of Public Health (DrPH) degree.
School of Social Work
The primary mission of the social work profession is to enhance human well-being and help meet the basic needs of all people, with particular attention to the needs and empowerment of people who are vulnerable, oppressed, and living in poverty. Social workers have an ethical obligation to address the health care needs of these groups and advocate for change to ensure access to quality care. The core values of the profession are service, social justice, dignity, integrity, and competence. Social work practice consists of the professional application of social work values, principles, and techniques to one or more of the following ends: helping people obtain tangible services; counseling and psychotherapy with individuals, families, and groups; helping communities or groups provide or improve social and health services; and participating in legislative processes. From:  https://www.socialworkers.org/Practice/. Some roles and responsibilities include crisis intervention, case management, community education, and identification of abuse, trauma, neglect, and exploitation. The school offers a Masters of Social Work (MSW) and a PhD in Social Work. Learn more about the school.