May Narrative Medicine Rounds with Kayhan Irani
"What Can the Work of Theater of the Oppressed Bring to Healthcare? Animating the Self & Relationships Through Body Language"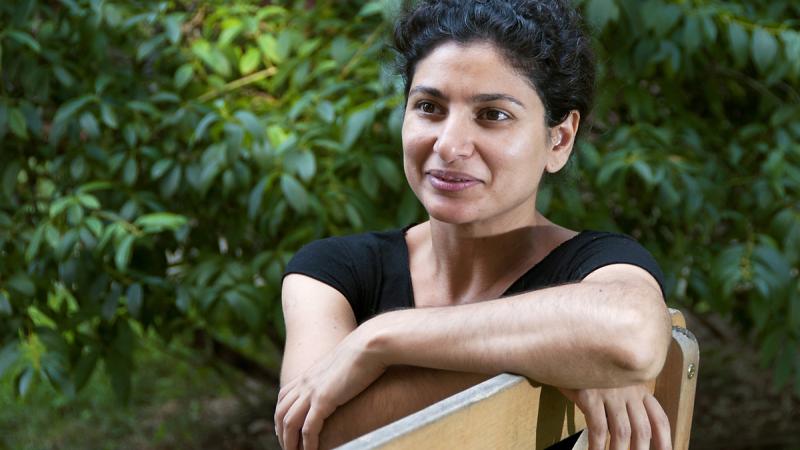 For our last Rounds of this academic year we welcomed Kayhan Irani, Emmy-award winning writer, performer, and Theater of the Oppressed trainer. Irani was in conversation with Silvia Amesty, a family medicine physician; they discussed Irani's work and the work of Theater of the Oppressed in general, and Irani lead the audience in an immersive experience to more deeply illustrate the work. 
Irani was one of ten U.S. artists named by President Obama's White House as a 2016 White House Champion of Change for her storytelling work. She creates storytelling spaces to build community, offer healing, and to re-connect participants to their innate creative power. She works internationally and in the U.S. with community organizations, social service providers, educational providers, and government agencies to expand what's possible when we deepen our relationships through story.
She is currently building There is a Portal, an immersive digital experience, pedagogy, and refugee leadership development model that asks, how can remembering together create networks of belonging? Her previous one-woman show, We've Come Undone, toured nationally and internationally, telling stories of Arab, South Asian and Muslim-American women in the wake of 9/11. She was a Fulbright-Nehru Senior Researcher in 2012-2013 studying Parsi embroidery for her play, Tree of Seeds. She has trained hundreds of groups in Theater of the Oppressed and participatory storytelling tools over the years, both nationally and overseas, in Afghanistan, India, and Iraq. Clients include NGOs, government agencies, and community organizations interested in using story-based strategies for engagement and education. Irani's work has been supported by the BBC World Service Trust, The U.S. Environmental Protection Agency, Bronx Council for the Arts, the New York Foundation for the Arts, The NYC Mayor's Office of Media and Entertainment, The National Parks Service, and the American Society for Muslim Advancement. Her published work includes co-editing Telling Stories to Change the World: Global Voices on the Power of Narrative to Build Community and Make Social Justice Claims (Routledge, 2008), and essays in Culturally Relevant Arts Education for Social Justice: A Way Out of No Way (Routledge, 2015) and Storytelling for Social Justice: Connecting Narrative and the Arts and Antiracist Teaching, 2nd Edition (Routledge, 2019). 
Kayhan Irani was in conversation for the evening with Silvia Amesty, MD, MPH, MSEd, a family physician and public health professional on faculty at Columbia University Irving Medical Center (CUIMC) in the Center for Family and Community Medicine, the Department of Medical Humanities and Ethics, and in Mailman School of Public Health's Department of Population and Family Health. Amesty is also currently a clinician at the New York Presbyterian Hospital's Young Men's Clinic, a one of its kind sexual and reproductive health clinic for young men.
Dr. Amesty's research interests are in racial/ethnic health disparities, immigrant health, global health, community-based participatory research, and key populations. She is an NIH funded researcher and her areas of interest are HIV/AIDS and marginalized populations, sexual and reproductive health in young adults, community health and Academic-Community partnership building. She has developed a strong interest in community-based participatory and qualitative research, which led her to pursue rigorous training in 2014 in the Photovoice methodology. She has conducted projects utilizing Photovoice with men who have sex with men, trans women, female sex workers and immigrant women communities in the Dominican Republic. She has recently conducted Photovoice projects with adolescents in Denver, medical students and residents in New York around COVID-19 and mental health. Dr. Amesty has been a Fulbright recipient twice, focusing on human rights and health in Costa Rica, and health disparities and marginalized populations in the Dominican Republic, and she is one of the 2021-2022 Provost's Senior Faculty Teaching Scholars and is currently working on innovative teaching approaches utilizing different methodologies from other disciplines.
Narrative Medicine Rounds are monthly rounds on the first Wednesday of the month during the academic year hosted by the Division of Narrative Medicine in the Department of Medical Humanities and Ethics at Columbia University Irving Medical Center. A recording of our Virtual Narrative Medicine rounds will be made available following the live session on the Narrative Medicine YouTube channel, and you can watch other recent Rounds events there.