Desirée Walker, BA
Shifting The Tide On Health Inequities and Social Injustices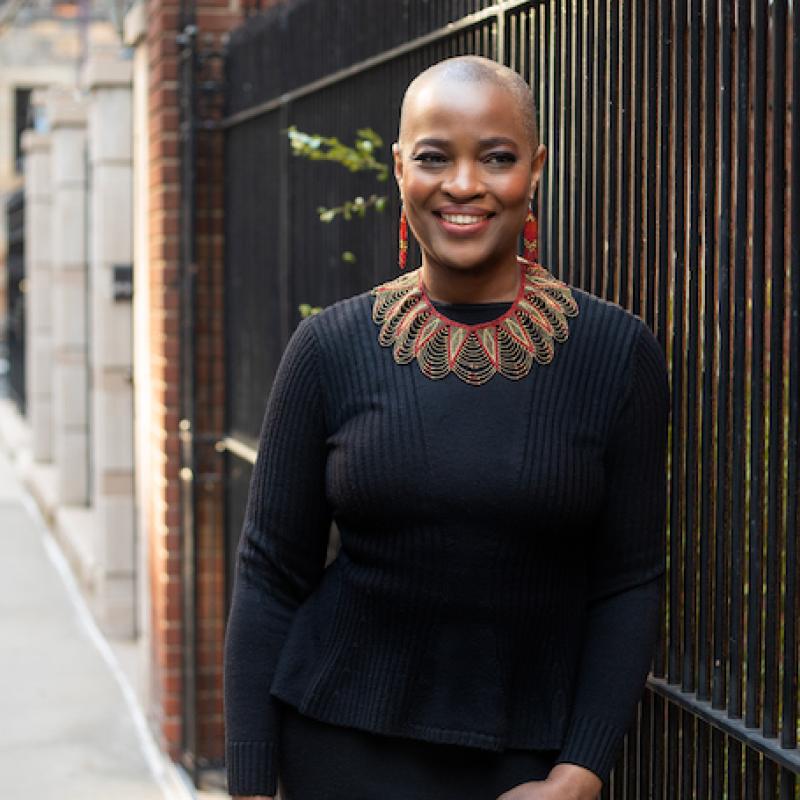 At the age of 38, Desirée A. H. Walker was diagnosed with breast cancer, which reoccurred at age 47. For many who have had to fight breast cancer, Desirée serves as an advocate for patients by openly speaking about her diagnoses to audiences nationally and internationally. The core of her message is to encourage patients to truly know their body and feel empowered to steward self, mind, body and soul.
Desirée is extremely active in the cancer community. Through SHARE's Side by Side Program, she trains medical students and physicians on how to deliver disappointing news and passionately conveys the importance of patient-doctor communication. She volunteers with the Young Survival Coalition as President, Board of Directors. She is a member of the National Coalition for Cancer Survivorship (NCCS); NCI CIRB; Society of Integrative Oncology's (SIO) Health Equity, Inclusion and Belonging Task Force; SWOG Cancer Research Network Diversity, Inclusion, Belonging Strategic Work Group; The MRCT Center of Brigham AND Women's Hospital and Harvard's Health Literacy Resources for Clinical Research and Collaborative Cross-Industry Glossary for Clinical Research Work Groups. She is a former member of the CDC's Advisory Council on Breast Cancer in Young Women. She serves on Herbert Irving Comprehensive Cancer Center's Patient Advocacy and Community Advisory Boards. She's also a Community Partner/Patient Advocate, Mount Sinai Tisch Cancer Institute's Cancer Care Accelerator Group. 
Desirée is featured in Survivors In Spirit's DVD titled Living, Loving & Learning – The facts about African American women and breast cancer survivorship; Cancer.Net's Navigating Challenges video series for people newly diagnosed with cancer; Cancer Support Community's ebook on breast reconstruction; and Conquer Cancer Foundation's Annual Report - Your Stories mini-podcast. She has given countless talks, including "I Am More Than You See" at the Canadian Association for Psychosocial Oncology Annual Meeting. Desirée was a panelist at Weill Cornell Medicine/NY Presbyterian-Brooklyn Methodist Hospital; The Society for Acupuncture Research International Research Conference; SXSW; the FDA OCE Educational Series - Conversations in Cancer; SIO International Conference; SWOG/The Hope Foundation's Crucial Conversations Series and the FDA/American Association for Cancer Research (AACR) Building an Inclusive Cancer Community. She has provided a patient advocate perspective at NCCS's Cancer Policy Roundtable; MSK's National Minority Cancer Awareness events; AAADV Annual Meetings; The Cornell Center for Health Equity's Tri-Institutional Symposium on Health Equity; and at the 12th and 14th AACR Conference on the Science of Cancer Health Disparities.
Desirée has appeared in the media on numerous occasions including "The Breakfast Club" with DJ Envy, Angela Yee and Charlamagne Tha God. She has been a guest blogger for WebMD, ASCO's Cancer.Net and the Department of Defense's Breast Cancer Research Program. Desirée has participated in Komen's "Know Your Girls" and the Ralph Lauren 20th Anniversary Pink Pony campaigns. She feels honored to facilitate support groups for women of African descent who are dealing with breast or ovarian cancer.
She is a graduate of the National Breast Cancer Coalition's Project LEAD® and AACR Scientist-Survivor Program. As a patient advocate, she's attended numerous national and international conferences including the San Antonio Breast Cancer Symposium, ASCO Annual Meeting, AACR Annual Meeting. and its Science of Cancer Health Disparities in Racial/Ethnic Minorities and the Medically Underserved Conference.  Desirée has been a consumer reviewer for the Department of Defense's Congressionally Directed Medical Research Program, a patient reviewer for PCORI, a reviewer, Cornell Center for Health Equity and the Conquer Cancer Foundation. As a patient advocate, she brings her experience to a team of cancer researchers at Columbia University's Mailman School of Public Health, Memorial Sloan-Kettering Cancer Center and the University of Wisconsin-Madison.
Desirée's diagnoses motivated her to become a patient advocate to share her talents and aid diverse communities. She uses her platform to be a voice for the voiceless and pay forward by educating and empowering people around the world. Most importantly, she makes time to "smell the roses" and feels blessed to enjoy time with family and friends.