August Virtual Narrative Medicine Rounds with Nicole Fleetwood
"Marking Time: Art in the Age of Mass Incarceration," a talk with writer and professor Nicole R. Fleetwood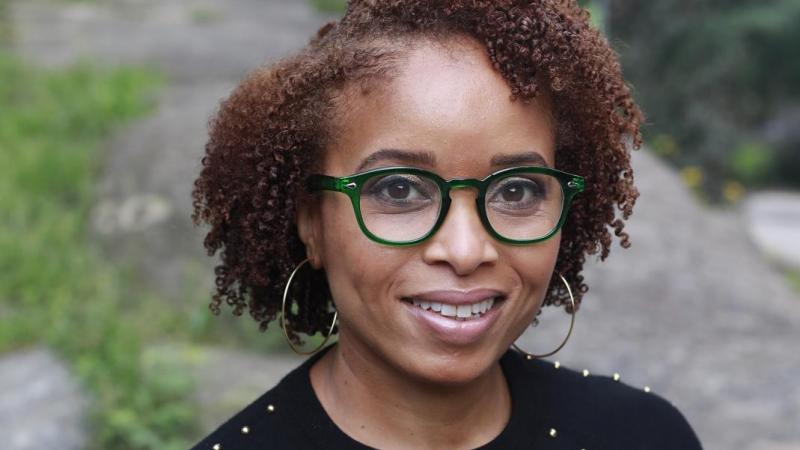 For August Narrative Medicine Rounds we are delighted to welcome Nicole R. Fleetwood, who is a writer, curator, and professor of American Studies and Art History at Rutgers University, New Brunswick. She will be speaking about her book Marking Time: Art in the Age of Mass Incarceration. Nigel Hatton, an associate professor of literature and philosophy, and critical race and ethnic studies at the University of California, Merced, will moderate the virtual event, which will include a dialogue with Lisette Oblitas, a Columbia University Justice-in-Education scholar and visual artist featured in Marking Time.
Professor Fleetwood's books are Marking Time: Art in the Age of Mass Incarceration (2020), On Racial Icons: Blackness and the Public Imagination (2015), and Troubling Vision: Performance, Visuality, and Blackness (2011).  She is co-editor of Aperture magazine's "Prison Nation," a special issue focusing on photography's role in documenting mass incarceration, as well as co-curator of Aperture's touring "Prison Nation" exhibition. 
Nicole Fleetwood has co-curated exhibitions and programs on art and mass incarceration at the Andrew Freedman Home, Aperture Foundation, Cleveland Public Library, Mural Arts Philadelphia, and Zimmerli Art Museum.  Her work has been supported by the Rockefeller Foundation's Bellagio Center, NYPL's Cullman Center for Scholars and Writers, ACLS, Whiting Foundation, Denniston Hill Residency, Schomburg Center for Scholars-in-Residence, Andrew W. Mellon Foundation, and the NEH.
Nigel Hatton is an associate professor of literature and philosophy, and critical race and ethnic studies at the University of California, Merced, founding member of the Critical Refugee Studies Collective, and part of the faculty committee for the Prison University Project at San Quentin State Prison. He has written articles on human rights and literature, and on thinkers such as Søren Kierkegaard, Martin Luther King, Jr., and Ivan Klíma in the James Baldwin Review, PeaceReview: A Journal of Social Justice, Kierkegaard Research: Sources, Reception and Resources, and other journals and book collections. He regularly works with Columbia's Narrative Medicine Program and has completed the Certification of Professional Achievement in Narrative Medicine.
Lisette Oblitas works as the Administrative Assistant at the Society of Fellows and the Heyman Center for the Humanities at Columbia University, overseeing day-to-day operations and collaborating with the Center for Justice and the Justice-In-Education Initiative to provide higher educational opportunities for presently and formerly incarcerated people. Oblitas, a native of Peru, speaks Spanish and English fluently. She became a Columbia University Justice-In-Education scholar in 2016. As a Visual Artist, Oblitas, along with 14 other women, created "Shared Dining," a collaborative art piece inspired by the original "Dinner Party" by Judy Chicago. "Shared Dining" was exhibited at the Brooklyn Museum in NY; the American Visionary Art Museum in Baltimore, MD; and the Maier Museum of Art in Lynchburg, VA. Oblitas has participated as an Art Panelist for the "State of Denial: the Illegal Incarceration of Women, Children and People of Color" at the Elizabeth A. Sackler Feminist Art Center at the Brooklyn Museum and "Visions of Confinement: A Lens on Women in The United States Prison System" at Hunter College in East Harlem.
Narrative Medicine Rounds are monthly rounds on the first Wednesday of the month during the academic year hosted by the Division of Narrative Medicine in the Department of Medical Humanities and Ethics at Columbia University Irving Medical Center. A recording of our Virtual Narrative Medicine rounds will be made available following the live session on the Narrative Medicine YouTube channel. You can also listen to a podcast of past Rounds on iTunes or watch recent ones on YouTube.